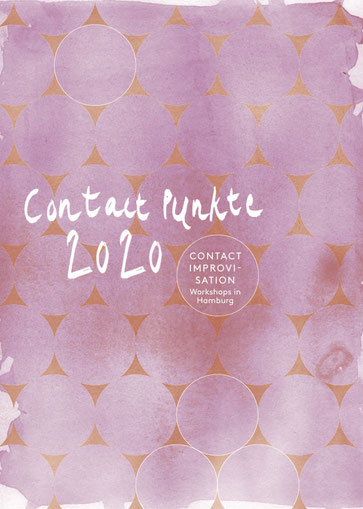 Contact Punkte 2018 - Contact Impro Workshops in Hamburg
Die Contact Punkte bestehen aus drei Wochenenden über das Jahr 2018 verteilt, jedes dieser Wochenenden ist von einem anderen CI-Lehrer und seinem Thema geprägt.
Contact Improvisation lebt von ihrer Vielfältigkeit und von den unterschiedlichen Herangehensweisen -  die Contact Punkte bieten eine Möglichkeit dieses Spektrum näher kennenzulernen.

Es gibt die Möglichkeit nur an einem Wochenende mitzumachen oder mehrere zu Belegen.

Vorraussetzung: Siehe Workshopbeschreibung

Contact improvisation requires a courageous willingness -- but never so much as when we dance in the absence of will - those moments when we drop the reigns and, nowhere bound, allow our animal to carry us. 
Join good company for dancing and discovery. With games, some sweat, and the unique physicality of the contact body we will savor and rock the boundaries between states of allowing and mindful intention.
We will explore:
o   Moving from a base of sensation
o   Dancing with a shared central axis 
o   Seeking ease in going off balance
o   Finding the spontaneous acrobatics of the form
o   Spending more time in nuance, disorientation, and extended follow-through
Martin Keogh has taught and performed contact improvisation for over thirty-eight years. For his contribution to the development of the form he is a Fulbright Senior Specialist and listed in Who's Who in the World. After attending the Interlochen Arts Academy and Stanford University, Martin spent time traveling to monasteries in Japan and Korea and was the director of theEmpty Gate Zen Center in Berkeley before discovering the world of dance.  He is one of the original members of the Motivity Dance Company, which specializes in aerial dancing on low level trapezes.  Martin is cofounder of Spring/Fall Dance Studio and The Dancing Ground, an organization that produces conferences on gender and mythology in Northern California.  He's worked with Touchdown Dance USA, an organization that teaches C.I. to the blind.  Keogh is the author of The Art of Waiting, As Much Time as it Takes, and the currently released: Hope Beneath Our Feet: Restoring Our Place in the Natural World. More info at: www.martinkeogh.com
You can also get a full narrative of my career here:
The early bird price is availible until the 11th of February 2018!
Contact Improvisation in its inherent nature has the potential to highlight how collaboration of parts is greater than their individual effects. Synergy takes place both in our internal spaces as the body, and in the external spaces that is our collaborations, the relations with others and the environment.
Throughout the past years of dancing, I've been curious how to train the body to become more aware, articulated and subtle. I've been fascinated about that space-time which opens up as our consciousness increases. We will approach dancing CI through fine-tuning our senses to come in tact with the nuances and the dynamics of touch. We let the technical work of falling, spirals, communication via touch, and shared weight align us safe and ease together with others. Sensitizing and scaling through the variables of weight while navigating within the multiple directions in space and of our weight in motion is to gain more support and freedom for movement.
Spicing up our dancing with circular, spherical pathways to gain continuity, as well as understanding discontinuity and fragmentation as tools to remain aware and listening of the constantly changing landscape of our bodies. Opening up our senses and imaginations to grow curios for that space in between our knowing and unknown to stir and invite the wider potentials of letting the synergy to dance.
KATJA MUSTONEN (FIN/GER) is a Finnish dance maker and teacher, currently based in Berlin, working as a nomad. She graduated as dancer in Finland 2004, and holds a MA degree in "Contemporary Dance Education"(MA CoDE, HfMDK,Frankfurt 2010). Since 2008, she's been teaching Contemporary Dance, Improvisation and Contact Improvisation internationally in institutions, festivals and other venues for dance. In her artistic work, she is curious about the states of presence and body's ability to transform, embody, and transmit images into knowledge, emotions, language and atmosphere's. Also, merging photography, video, sound and text together with materials or objects continues fascinating her in terms of finding more ways to express ideas and execute movement, creating the larger body of her artistic work.
The early bird price is availible until the 9th of August 2018!
Ort: Triade, Bernstorffstr. 117, 22767 Hamburg
Preis:
Ein Wochenende Fr-So 160 € / 135 € (Frühbucherrabbat)

Uhrzeiten:
Freitag: 19h00-22h30
Samstag: 11h00-18h00
Sonntag: 10h00-17h00